About Williamson
Williamson is a unique, immersive year long program designed to transform the way you think about your leadership purpose.
The program is built on the premise of experimentation. It will push you to continually challenge how and why you lead. It will expand the way you see the world and change the way you exercise leadership. You will engage unusual voices and learn to mobilise and empower others to do extraordinary things in your organisation and community. You will become adept at strategic analysis, systems thinking, sense making, and will critically examine the challenges and opportunities facing today's leaders.
You will experience an enormous shift in the way you activate in your workplace, community and personal life.
Achieve impact in complex and rapidly changing environments, discover your leadership purpose and support your organisation and your community to perform better, and adapt and thrive in today's world.
Who Should Apply
Williamson attracts people who are looking for something different in a learning experience. They are people who  
Are curious about how to make a bigger difference through exercising leadership and create a greater impact in their organisation and broader society. 

 

Have significant management experience (10+ years), or leadership experience in other areas of life

 

Have a sense of their moral and ethical self, and want to contribute to a better world

To further enrich the learning each year, group participants span a range of fields, age groups, sectors and backgrounds
Scholarships
We are also pleased to offer a number of scholarships and funded places. Please note that scholarship applications for 2021 are now closed.
Program Outcomes
You will emerge from the experience with: 
A broader and deeper understanding of approaches to leadership and the themes sitting at the heart of societal challenges and issues. 

 

A greater sense of personal obligation to contributing to our society 

 

Increased confidence in exercising leadership

 

Connecting with others more empathetically to engage more effectively in change

 

To transform the way you think and act to be better equipped to operate in complex environments

 
Program Inclusions
4 multi day

immersives

– a Welcome at the start, Rural & Regional  immersive

during the program and Commencement at the end – offer deep learning experiences

 

6 Theme Days designed to expose participants to new perspectives & experiences on themes at the heart of societal issues    

 

6 Leadership Days designed to practice and explore leadership principles and competencies

 

2 Virtual provocation sessions during the year designed to create fresh insights on contemporary leadership 

 

4 evening events to celebrate, challenge and engage 

 

Deep exploration of the Leadership Development Framework and unique participant profile, through small group debriefs to support development of meaning-making for leadership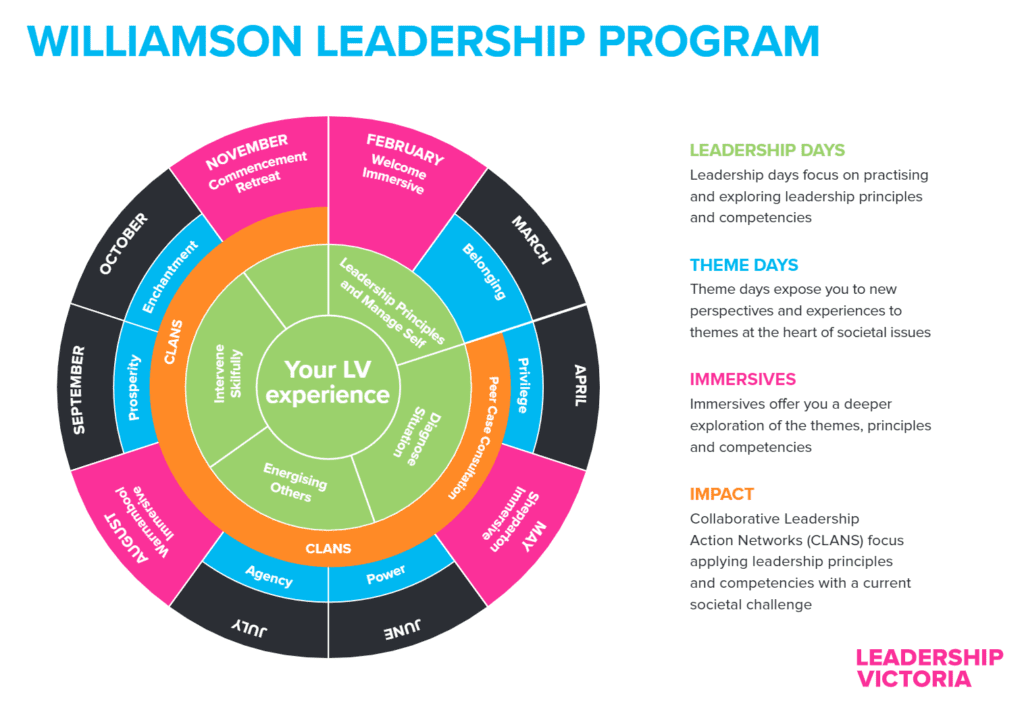 Express Interest for 2022
Investment
Williamson fees are structured so that there is an organisational and an individual component. Program fee includes GST.
| | Program Fees | Not-for-profit Fees |
| --- | --- | --- |
| Intensive | $21,175 + $2,057 (individual contribution) | $17,930 + $2,057 (individual contribution) |
| Standard | $16,049 + $2,057 (individual contribution) | $13,750 + $2,057 (individual contribution) |
Williamson Intensive includes a 1:1 Harthill debrief, three coaching sessions and a follow up Harthill retest and debrief post program.
Participants can purchase additional coaching sessions during the year.
Program details are correct at time of publishing and are subject to change without notice. Please view our terms and conditions which includes information about our cancellation policy.