In March, the 2020 Williamson cohort are exploring the theme of belonging and its different forms in the context of place, identity, community and work. They'll be examining attitudes towards cultural diversity, inclusion and heritage and considering the challenges for community groups as well as organisations seeking to meet social need. What does it mean to belong? What does a socially cohesive society look and feel like? What voices are not being heard? And what is the experience of exclusion? As part of the Williamson program experience, participants will be visiting The Islamic Museum of Australia. Maryum Chaudhry, General Manager of the Islamic Museum of Australia shares her thoughts on belonging:
Belonging by Maryum Chaudhry (WCLP'14), General Manager, Islamic Museum of Australia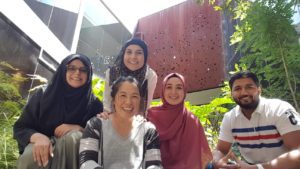 As I write this, the team here at the Islamic Museum of Australia is in the midst of developing an exciting new exhibition, highlighting the voices of 'every day' Muslims in the community.
It has been interesting to hear the voices of people, all of whom come from a minority group or groups: They're all Muslim – some wear pieces of clothing that make them identifiably so – they are mostly non-Anglo, hailing from countries across Asia, the sub-continent, Africa and the Arabian Peninsula.
Some have recently, or not so recently come from elsewhere: carving a place in a foreign country, learning a new language, culture and way of life, finding employment and embedding themselves and their families into their new country.
Others are the voices of first and second generation Australian-born Muslims: They've known no other country to be home, yet they're pigeonholed by their religion, clothing or colour of their skin by others and considered to be from elsewhere.
It should come as no surprise then, that one of the underlying themes arising from the stories captured for the exhibition, is that of belonging.
The common thread that binds them is that a sense of belonging is often driven by self-acceptance and indeed, finding this is very much a journey for the individual.
This said, harnessing a healthy sense of belonging is not a one-way street. It begs the question: in the workplace, as in the wider community, what can others – specifically those in leadership roles -do to enhance the sense of belonging of others?
Empathy is critical, yes. But so too, is leaning in to the unknown, embracing the opportunity to learn something new, no matter how big or small.  Certainly in the case of Islam and Muslims, much of what is understood by others is limited to what they read and see in the media – this in itself is often the driver of negative narrative.
Personally, I find it's far more productive to respond to sincere questions, than to laugh off the feigned pity and jokes about our inability to join the rest of the team in finishing the working week with a glass of wine. The latter only serves, perhaps unconsciously to draw a line between 'us' and 'them', and feeds into any self-doubt around belonging.
A handful of our 'every day voices' were quick to acknowledge they were perhaps more fortunate than most, applauding their employers for seemingly small but significant measures: the occasional pilates class instead of drinks at the pub; support during Ramadan including adjusted hours; the provision of a place to pray, twice a day for ten minutes at a time; or simply asking questions to better understand the religion.
What can be said with little or no argument, is that to not feel a sense of belonging, to feel excluded, is a lonely place. At work, this can translate to poor workplace culture, poor productivity and a lack of pride in one's work.
Ignorance, indifference, fear and apathy are the best of friends to social incohesion, yet the solution in part is simple.
Lean in to what you don't know and take affirmative action. More and more, minorities are occupying a greater space in the workplace and at the Boardroom table, where they belong. Commit yourself and your team to cultural awareness training (there are tremendous programs on offer, including one offered by the Islamic Museum), ask questions, engage and embrace.
Maryum Chaudhry (WCLP'14)
Maryum is the General Manager of the Islamic Museum of Australia. She is the President of Sanad Foundation and Vice Chair of Centre for Muslim Wellbeing. She was previously a Commissioner for the Victorian Multicultural Commission, Vice President of Islamic Council of Victoria (CV) and CARE With ME (foster care), Member of the Women's Legal Service of Victoria, Alumni of the Williamson Leadership Program and an AFL Multicultural Community Ambassador. Read more about the Maryum and the Islamic Museum of Australia here.